Drive Electric Earth Day
Raleigh, NC
Apr 10, 2019
Day:
Wednesday, April 10, 2019

NOTE: this event has already happened

, find current-year events on the Attend page.
Time:
11 AM - 1 PM
Location:
Pleasant Valley Promenade
6204 Glenwood Ave
Raleigh, NC 27612

Event Report
We hosted the event at the new Electrify America stations in Raleigh, NC. The news conducted an interview during the event to further increase awareness of electric vehicles and the new charging stations.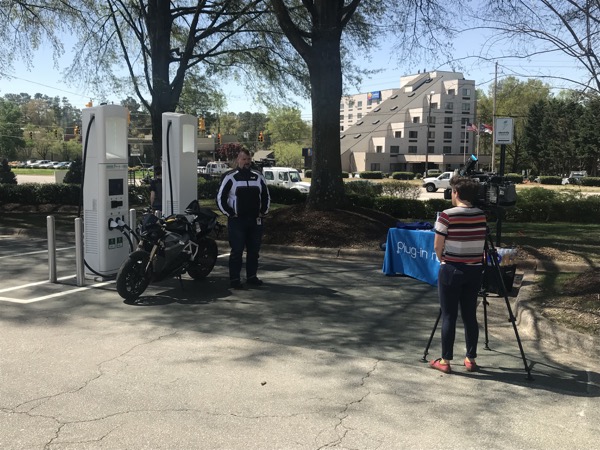 photo by: Plug-in NC


Event attendee being interviewed by local news station.
Event Description
Plug-in NC and Triangle Clean Cities Coalition will be hosting an EV Meetup on Wednesday, April 10, 2019 from 11 AM to 1 PM at the new fast charging stations located in Pleasant Valley Promenade (6204 Glenwood Ave, Raleigh, NC 27612).

These charging stations were installed as part of the Electrify America initiative and are the first to go live in the Triangle. EV drivers are invited to bring their vehicles to display and plug in at the new stations, and the public is welcome to attend to learn more about driving electric and talk with current EV owners.