Drive Electric Earth Day


DEP's 50th (+2) Anniversary


Jersey City, NJ




Apr 23, 2022
Day:
Saturday, April 23, 2022

NOTE: this event has already happened

, find current-year events on the Attend page.
Time:
10:00 am - 3:00 pm EDT
Location:
Liberty State Park
1 Audrey Zapp Dr.
Jersey City, NJ 07305

Event Report
The EV Zone featured DEP's Drivegreen team along with a charging station vendor and EVs on display:
Kia EV6
Audi e-Tron
Tesla Model S
Kona Electric
Chrysler Pacifica Hybrid
The New Jersey Coalition of Automotive Retailers was stationed inside the main event area alongside a Porsche Taycan on display.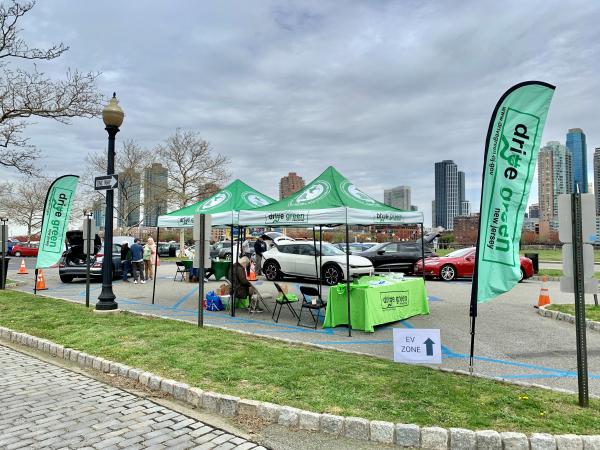 photo by: NJDEP


EV Zone at the Department of Environmental Protection's 50th (+2) Birthday and Earth Day 2022
Event Description
Event Background: As the nation marked the very first Earth Day 52 years ago, New Jersey had its very own reason to celebrate – the creation of the state's Department of Environmental Protection. Today, the DEP includes dozens of programs that continue to advance innovative strategies to safeguard and strengthen New Jersey's air, water and land, and the health of its residents. In the spring of 2020, the DEP was gearing up for a fantastic celebration to mark its half-century of existence. Then came COVID-19 and nearly all of our plans were put on hold. Two years later, we have lived through the pandemic and are taking careful, but sure steps toward better days. In this, our 52nd year, we invite all of New Jersey to share in our celebration of the DEP's efforts and achievements.
It's Electric! The event will include a designated "EV Zone" where DEP staff and local dealerships will have several different models of electric vehicles on display. Staff will also provide a series of EV Chats throughout the day where you can get a crash course in EVerything EV.
Each of these four chats will include an intro to EVs followed by a deeper dive into specialty topics that cover charging at home and on-the-go, available incentives, and more:
"Used EVs??"
Time: 10:20 a.m.
Don't overlook the benefits of buying a used EV! Join this EV chat to hear about what you can expect at the dealership, battery range, and so much more.
"Charging @ Home"
Time: 12:50 p.m.
Most EV owners' primary method of charging is from the comfort of their own home: plug in at night and wake up with a full battery. Stop by to learn all about the home charger experience.
"Rebates & Incentives"
Time: 1:50 p.m.
There are so many ways to save by making the switch to electric. This EV Chat will cover everything from vehicle and charger rebates to tax exemptions and the extra perks of EV driving.
"Charging On-the-Go"
Time: 2:10 p.m.
While most EV owners usually charge at home, it's still important to know how and where to charge up when you're out and about.
Registered Attendees
There are currently 2 attendees registered.
Owners of These Vehicles Have Registered To Attend
| | |
| --- | --- |
| Vehicle | Registered |
| Chevrolet Bolt | 1 |
| Chevrolet Volt | 1 |
| 2 Models | 2 |
Registered attendees report 10,700 electric miles driven.