Drive Electric Earth Day
Saratoga Springs, NY
Apr 06, 2019
Day:
Saturday, April 6, 2019

NOTE: this event has already happened

, find current-year events on the Attend page.
Time:
12:30pm - 3:30pm
Location:
Skidmore College, Case Center
815 N Broadway
Saratoga Springs, NY 12866

Event Report
This was the first event my organization, Green Energy Consumers, did in Upstate New York. The foot traffic was great, but we could have benefited from additional planning time. The way the event was set up could have also been changed to better encourage participants to test drive. Overall, I'm happy with the event since it was our first one in the area, but expect major improvements going forward.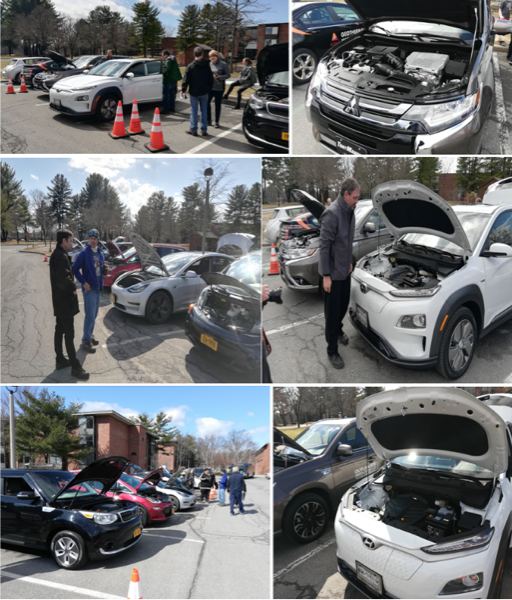 photo by: Scott Kolaya


Pictures from our ride & drive event at the Saratoga Sustainability Fair.
Event Description
Green Energy Consumers is hosting a ride & drive and EV showcase as part of the Saratoga Sustainability Fair on April 6, 2019. The Fair itself runs from 10am -4pm, but the EV portion runs from 12:30pm - 3:30pm. We'll have a Mitsubishi Outlander and Hyundai Ioniq to test drive at the event. We also have a good deal of EV owners coming to participate in the event! Come check out the event and take a peek at our website to learn all things EV and about our Drive Green with National Grid program: drivegreen.nationalgridus.com/learn
Please register to attend using the button at the top of this page.
Registered Attendees
There are currently 6 attendees registered.
Owners of These Vehicles Have Registered To Attend
| | |
| --- | --- |
| Vehicle | Registered |
| Chevrolet Bolt | 1 |
| Hyundai KONA Electric | 1 |
| Kia Soul EV | 1 |
| Tesla Model 3 | 1 |
| 4 Models | 4 |
Registered attendees report 45,100 electric miles driven.