Drive Electric Earth Day
Belleville, IL
Apr 22, 2019
Day:
Monday, April 22, 2019

NOTE: this event has already happened

, find current-year events on the Attend page.
Time:
4:30-7:30PM
Location:
Southwestern Illinois College
2500 Carlyle Ave.
Belleville, IL 62221

Event Report
We had a good number of enthusiastic participants and some great attendees who enjoyed our cars and the information we provided.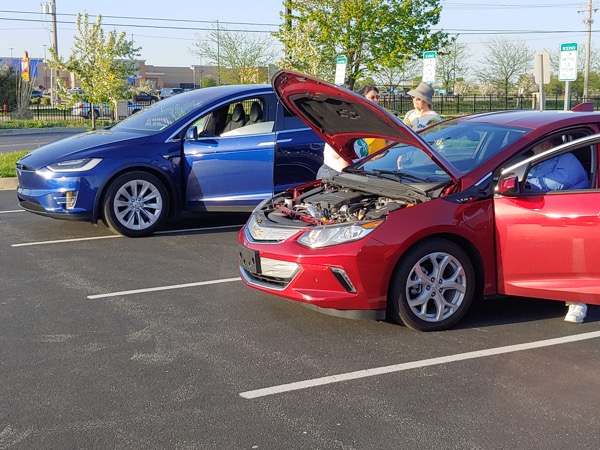 photo by: Frank Buckingham


Cars were the stars... but the people had a great time too!
Event Description
Welcome to Southwestern Illinois College, Belleville Campus! On Monday evening, April 22nd, from 4:30pm to 7:30pm we will be talking about and showing our plug-in electric vehicles. This will be on the north end of the campus, in the Electric Car Parking area, near the Liberal Arts Building with the Campus Book Store, (and not too far from the Library in the Information Sciences Building.)
We will have a table and chairs with the "Drive Electric Earth Day" banner near the car chargers. Please look for us! We plan on having some light refreshments and drinks. We will be there to answer questions about electric cars and chargers, about saving energy and saving money. There will be various brands of cars there. Several of us will allow you to sit in the car and some may even give rides. Bring your curiosity and questions and plan to join us. See you there!
Aramark/SWIC Starbucks is a Local event sponsor. Lucky event attendees may win Starbucks coffee as an attendance prize.

Registered Attendees
There are currently 13 attendees registered.
Owners of These Vehicles Have Registered To Attend
| | |
| --- | --- |
| Vehicle | Registered |
| Nissan Leaf (2011-2017) | 2 |
| Chevrolet Bolt | 1 |
| Chevrolet Volt | 1 |
| Honda Clarity Plug-in Hybrid | 1 |
| Tesla Model 3 | 1 |
| Tesla Model X | 1 |
| Toyota Prius Prime | 1 |
| 7 Models | 8 |
Registered attendees report 194,787 electric miles driven.